The Bank Bees is a Bank ETF fund of Goldman Sachs and the objective of the fund is to correspond the total returns of the Bank Nifty Index.
The Bank Bees ETF fund holds all of the Bank Nifty twelve stocks in the similar proportion as they are in the Bank Nifty Index. Any investor who wishes to diversify his / her portfolio and wants to invest in the top Banks of the Indian Economy can do so by investing in the Bank Bees ETF.
The fund was first launched on June 4, 2004 and the fund has generated, since inception, a CAGR return of 20.83% as compared to 19.52% of the BankNifty Index.
About the Benchmark
BankNifty Index
Bank Nifty Index is comprised of the most liquid and large capitalized Indian Banking stocks. The index includes 12 banking stocks listed on the National Stock Exchange (NSE) that represents approximately 92.2% of the free float market capitalization of the Banking Sector in India as on Mar 31, 2015.
For more about BankNifty Index, Visit What is BankNifty Index (CNX Bank Nifty Index) & How to trade BankNifty?
Top 10 Holdings
| | |
| --- | --- |
| Company | Weightage (%) |
| HDFC Bank Limited | 30.81% |
| ICICI Bank Limited | 21.86% |
| Axis Bank Limited | 10.83% |
| Kotak Mahindra Bank Limited | 10.66% |
| State Bank of India | 9.98% |
| IndusInd Bank Limited | 6.81% |
| Yes Bank Limited | 3.42% |
| Bank of Baroda | 2.12% |
| The Federal Bank  Limited | 1.39% |
| Punjab National Bank | 1.24% |
* As on Dec 31st, 2015
The above list illustrate that more than 90% of investor fund will be invested in these top six banks of which five are private banks. So, risk of  investment in any single bank will be eliminated by investing in the Bank Bees ETF as the investor has exposure to a number of banks and that too in only those which are among the top and those which are performing.
Historical Timeline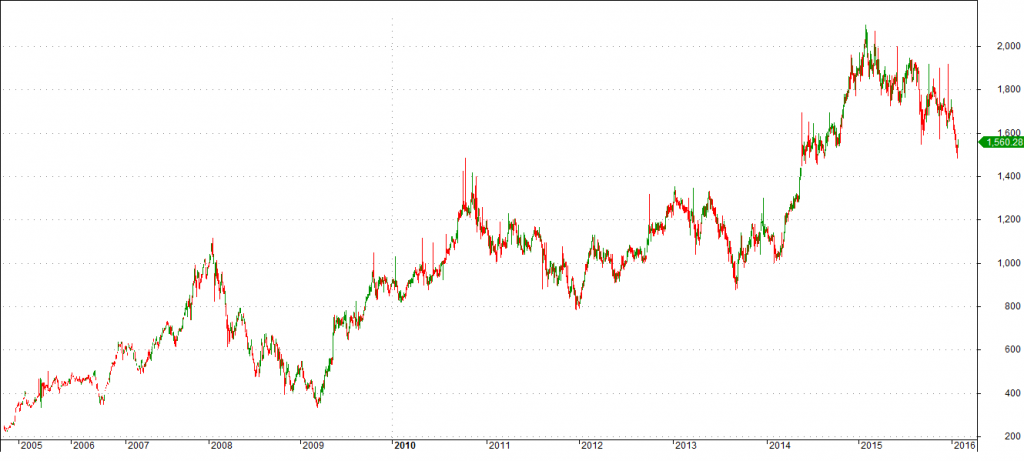 Why to invest in Bank Bees?
Buy/ sell the Indian Banking Sector in one ETF unit. At present, Bank Bees is quoting at approximately Rs 1600 (priced at 1/10th of the Bank Nifty Index).
Any institution who wishes to have international exposure in India Banking Sector or to hedge foreign investing risk prefer investing via Index ETFs.
Dividend Distributed
| | | |
| --- | --- | --- |
| Type of distribution | Record Date | Dividend Per Unit |
| Dividend | 2015 Feb 20th | Rs. 13 |
| Dividend | 2014 Mar 11th | Rs. 11 |
| Dividend | 2013 Mar 13th | Rs. 18 |
How to Invest in Bank Bees ETF?
Any investor who wishes to buy or sell Bank Bees ETF can do so from their Trading & D-mat account through their stock or financial broker.
Similar to stocks, Bankbees can be bought any time during the trading day at the market price and will attract brokerage fees as in the case of buying stocks.
Key Facts
Benchmark Index – Bank Nifty Index
NSE Symbol – BankBees
BSE Code – 590106
ISIN – INF732E01078
Pricing – 1/10th of Bank Nifty Index (Approx.)
Type of Fund – Open ended index scheme, listed on the exchange in the form of an Exchange Traded Fund (ETF)
Investment Objective – Replicate the total returns of the securities as represented by the Bank Nifty 50 Index.
Taxation Treatment – Equity
Managers – Goldman Sachs Asset Management (India) Private Limited
Minimum Lot (Exchange) – One unit/share
Minimum Lot (Directly with Fund) – 1,000 units and in multiples thereof
Maximum Expense Ratio – 0.80% Annualized
Entry / Exit Load – Nil'
Wrapping Up
Investment in Bank Bees will give an investor exposure to the Top 12 Capitalized Indian Banks. So, investment in Bank Bees will always have top banks from Indian Economy which will make investor free from a lot of worry of finding the right bank to invest in, rather his investment will be betting on the Indian Banking Sector on a whole because those banks which will not be performing will "AUTOMATICALLY" be replaced by those banks who performs.
Are you using Bank Bees ETF as an investment option in your equity portfolio? Have you got any investment ideas you'd like to implement but you still haven't?
Share them with other investors and traders in the comments below.

JustTrading.in is a private community of traders who come together to collaborate, learn and grow their trading skills and knowledge in a supportive environment to make Trading A Successful Business.

Latest posts by Just Trading (see all)
What is Bank Bees ETF? How & Why to Invest in Bank Bees?