This is an update of our article Weekly WrapUp – Bank Nifty recovered sharply after 2 weeks bear fall, BankNifty on Monday showed first sign of stoppage of current up momentum by giving a bearish outside reversal bar (Or Bearish Engulfing Pattern).
Refer Chart – I
Chart – I, BankNifty Futures EOD
The reversal which led the market to fall for continuous 9 trading days and losing the full previous up move or some 2600 points (12.5%) forms an inverted V- shape reversal. This sharp fall in the Bull Run makes the market oversold and due for a correction. A sharp up move reversal started after finding support at the major bottom level of the bull market resulting in a 4 continuous positive up move days with a gain of 1255 points. For the next few trading days, market can find resistance at 19650-19750 and remain in trading range between 19600 to 18800.
An excerpt from Weekly WrapUp – Bank Nifty recovered sharply after 2 weeks bear fall
Our analysis goes on well with the move of the market where market faces resistance at 19610 & started it down move till 19326 and consolidated within the range of 19326 to 19500 and falls further in the later trading day till 19211 to settle at 19272.8.
Refer Chart – II
Chart – II, BankNifty Intraday Feb 16th, 2015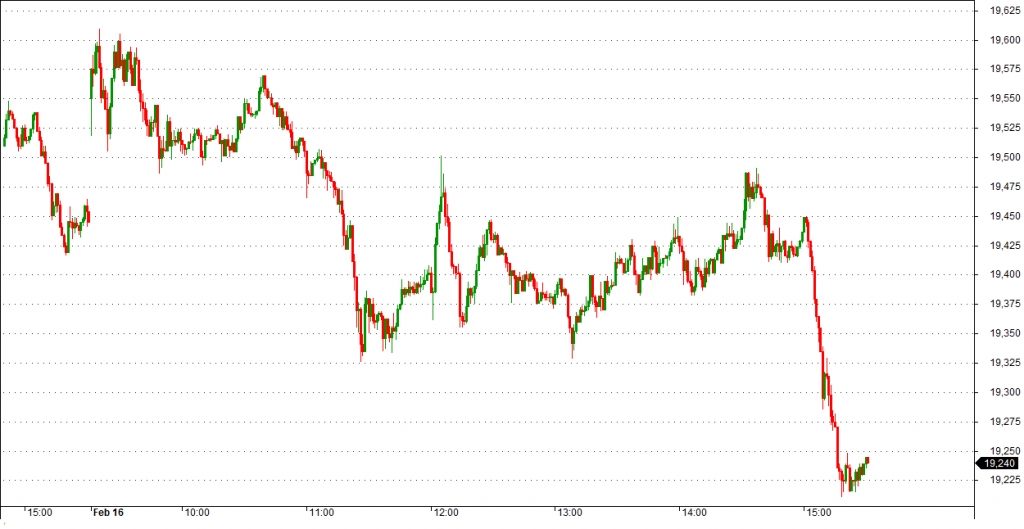 On Mondays trading day, BankNifty was dragged most by fall in YesBank which topped out on Friday and fall 2.3% on Monday.
Refer Chart – III
Chart – III, Yesbank EOD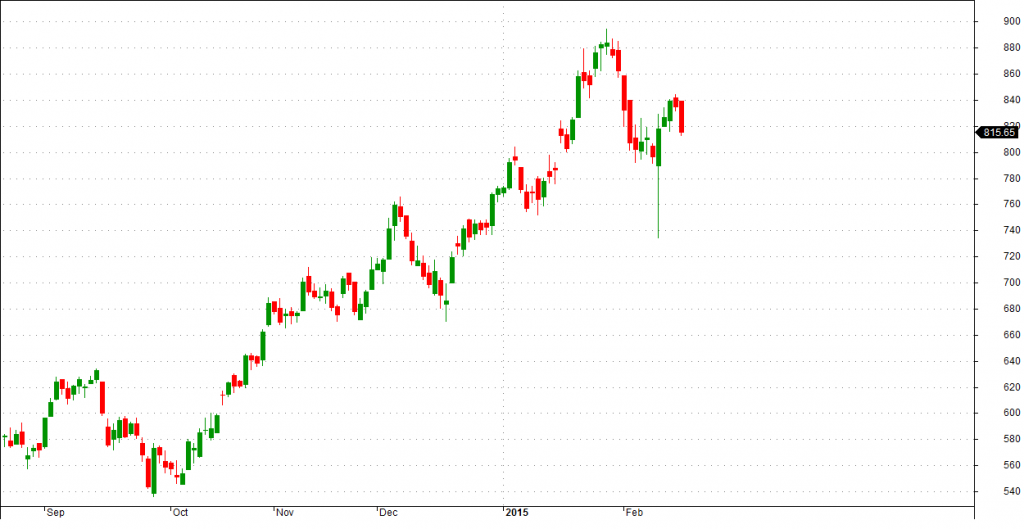 .
Markets were closed today on account of Maha shivaratri.
For the coming trading days, we can continue with our earlier analysis that BankNifty can move with the negative bias and consolidate in the big range 19600 to 18750 (18800) to prepare for the major event due next week (Budget).
Important Event – Budget in Next Week on Saturday (28th Feb 2015)
It is still unclear whether market will remain open for trading on the budget day. If market didn't open for special session, then this would be the first time in two decades that markets will remain closed on the day of budget.
In the past, markets have remained open on three occasions when the Budget was presented on a Saturday — former finance minister Manmohan Singh had presented his budgets on February 29,1992 and February 27,1993, while Yashwant Sinha had presented it on February 27,1999.
Disclaimer – Please note that the post series are our personal view and we advise you to consult your financial advisor before taking any trading decision.
For more, Visit https://justtrading.in/disclaimer/ 
Don't forget to join our Email newsletter for getting more awesome updates. If you find this article informative, do share it on Facebook and Twitter.
KNOWLEDGE IS POWER!

Latest posts by Just Trading
(see all)
BankNifty Futures – Sign of Stoppage of Current Up Momentum